The beginning is always the hardest. That moment when you are standing on the brink, on the edge, at the boundaries of what you want to do, what you can do, what you're afraid to do, and you don't know when or how you're going to take that next step. You're ready, you know you are, you feel it in your heart in your gut in your soul in your very soul, but then you look at that vast ocean of possibilities and opportunities and suddenly you start to feel small. Can I do it? you ask. Will I sink or will I float? And you have a thousand other questions and not a single answer. You can just stand there, on the brink, on the edge, at the boundaries, and ask questions forever. Or you can just take that first leap—take it afraid, take it doubtful, take it fearful, or terrified even—and find the answers as you go along.
Beginnings
Karren Renz Seña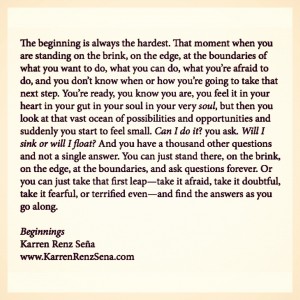 Featured Photo Credit: https://nousnet.files.wordpress.com/2013/11/trailtracks.jpg
Share the post "Beginnings"