IN WAR, HEROES ARE MADE. LEGENDS ARE BORN. CHAMPIONS WILL RISE.
Present day, Cielos, the city closest to heaven. The Sword of Sargatanas has been stolen from the most powerful stronghold in Cielterra. When used at a time when the planets align, the sword has the power to open Gate Pandora and unleash unto the Worlds legions upon legions of monsters and beasts from hell.
Present day, location undisclosed. One clueless Human acquaints himself with the barrel of a gun—belonging to the woman he almost fell in love with, no less—and finds himself kidnapped and whisked to a world standing on the brink of war.
The Worlds—both visible and invisible to us—are in danger. The Towers that guard the Flaming Sword of Eden have chosen the heroes. It just so happened that the heroes aren't really… hero-material. Not at all.
Seven angry, sarcastic, violent, belligerent, uncaring and uncompassionate young men and women were forced to team up to stop a possible apocalypse from happening. As they journey towards the Far West to retrieve the stolen sword, the seven Champions brave one trial after another (including, but not limited to, falling in love with ill-tempered bullies) and ultimately find out what it means to become a true hero.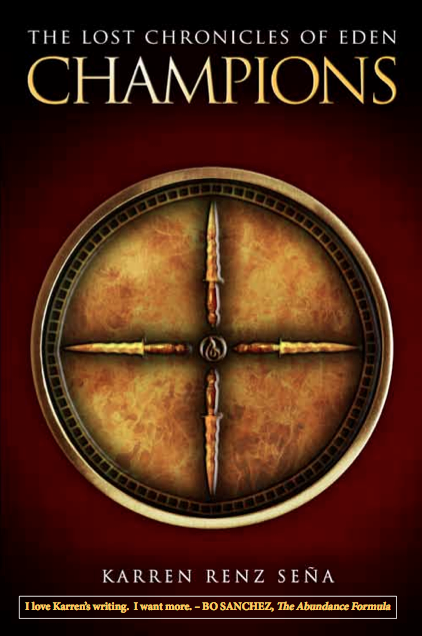 PRAISE FOR "CHAMPIONS" by Karren Renz Seña
"I love Karren's writing. I want more."
--Bo Sanchez, "The Abundance Formula"
"Karren's writing drew me in, kept me hooked, and got me aching to know what would happen next. A beautiful, sophisticated, brilliant piece of work! The youth needs this kind of engaging material that will challenge them to rise to the call of heroism."
- George Tolentino Gabriel
Award-winning Author of "Love Life" and "Live Life", Kerygma Preacher, and Editor-in-Chief of FiSH magazine
"Debut novelist Karren Renz Seña has the uncanny ability to grab hold of even the most disinterested reader with the first sentence alone, and manages to sustain that piqued interest with a matching prowess for eloquent description, relatable characterization, and a compelling narrative. In this first novel, Seña proves that she is no stranger to writing fiction, and she is most certainly no novice in the faith: from the accurate epigraph to the final period, "Champions" serves to entertain and enlighten, through allegories of fantasy, about the battle between good and evil, and how all of us are called to be guardians to slay our own demons. May this book fire up the imagination of its readers so that their hearts may be set aflame by the call to become true Champions and heroes."
- Ma. Ailil B. Alvarez
Deputy Director, University of Santo Tomas Publishing House
"Champions will entertain you. It will excite you. But most of all it will inspire you to rise beyond your self-imposed limitations and be the champion you were meant to be."
- Rissa Singson Kawpeng
Bestselling Author of "Love Handles"
BUY CHAMPIONS!
STALK THE CHAMPIONS: www.karrenrenzsena.com/category/champion-files
BUY THE BOOK: www.KerygmaBooks.com
BUY THE BOOK THROUGH BUQO APP: Download "BUQO" in iTunes AppStore or Google PlayStore
BUY THE EBOOK: www.KerygmaBooks.com/ebooks
FANGIRL OVER SOLOMON: www.facebook.com/ChampionsBook
SPAM THE AUTHOR: karrenrenzsena@gmail.com