Write That Right Now Batch 2: The Creative Writing Seminar That Transformed Dreamers into Writers
DO YOU WANT TO BE AN IMPACTFUL, INFLUENTIAL, AND INSPIRING WRITER?
DO YOU WANT TO AUTHOR A BOOK THAT WILL MOVE, MOTIVATE, AND MENTOR READERS?
DO YOU WANT TO KNOW HOW TO JUST BEGIN?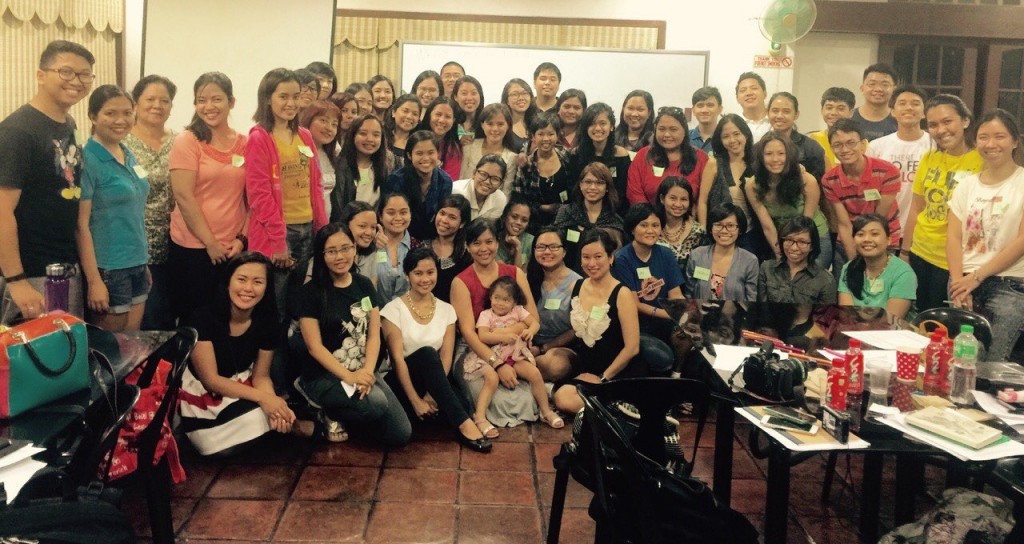 Last July 25, 2015, a huge group of dreamers walked into Balay Kalinaw one afternoon, expecting to attend "just another creative writing workshop." They didn't know that their souls will be bared open, and that their hearts will be set on fire. They didn't know that they would walk out of that venue as real writers, with the actual training and heart to finally wield words and use them as weapons that will help change this world.
HAVE YOU EVER WANTED TO BEGIN WRITING, BUT DIDN'T KNOW HOW?
We all experience bumping into the wall that separates us from our dream to writing down that book, article, story, blog post, or poem.
It may be a wall of fear, feelings of inadequacy, over busy-ness, doubts, or insecurities.
Some people bulldoze their way through that wall. Others dig beneath to get to the other side. Some others would walk its entire length to see a small space wherein which they could pass through. These people live to see their works in print or on the screen.
But sadly, others drop the pen. And the dream will forever remain a dream.
Sounds familiar? Of course it does. You're probably nodding your head as you read this now, because if you weren't then you wouldn't even be reading this in the first place (because you'll have been writing your masterpiece).
But worry no more. We can help each other break through that wall. This January, we are launching another set, another batch, another cycle of dreamers-turned-real-writers.
START THE YEAR RIGHT. WRITE THAT BOOK NOW.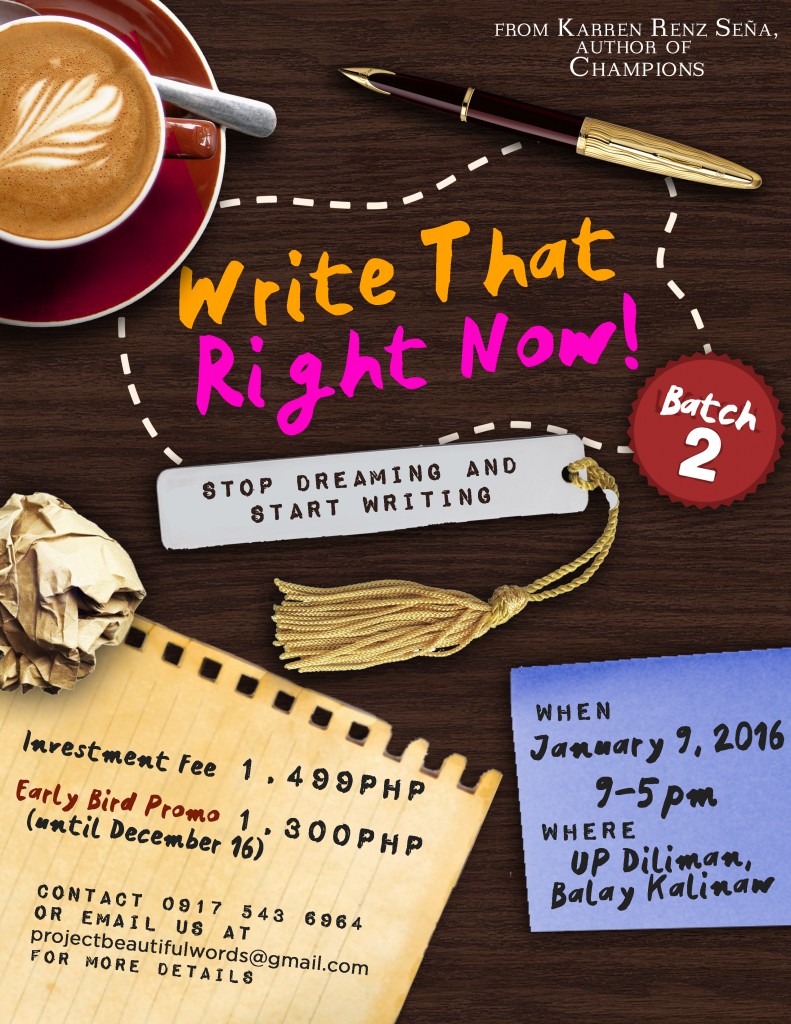 Why January? Because we want to ride the waves of change that each New Year brings. We want to be able to start. We want to be able to begin chasing our dreams. We begin the New Year with a new and renewed hope, and together, as one group, we will make sure that these dreams won't just remain dreams.
WE WANT TO MAKE SURE THAT THIS WILL BE THE YEAR
THAT YOU WILL BECOME PUBLISHED.
LET US START HERE.
Write That Right Now! Stop Dreaming and Start Writing used to be a 5-hour jam-packed seminar-workshop… But now, we've turned it into a whole-day workshop that will bring out that fermenting story from the depths of your creative psyche and into the open arena of not only published, but well-loved works. (Because OF COURSE you can't just write a book. It has to be a good one; otherwise people won't bother with it!)
Here's what you will get from the workshop:
Hold It! Basics Before Book! (Stuff You Need to Know If You Want to be the Next Bestseller)

Internalize the 5 Pillars of Writing and become a writer at heart
Utilize the basic, but most powerful tools that will help you jumpstart your writing career (The Cardinal Rules of Writing)

Onwards, Slave of the Word! (Getting Down to the Art of Writing)

The Beginning Is Always the Hardest (Beating the Myth of the Writers' Block)
#DigDeep (How to Get into the Heart of Writing)

Cutting Scars Open
Beating Demons Dead
Picking Pieces of Broken Dreams

"We'll Never Go Out of Style" (How to Find Your Style)
Spunk, Sass, Sarcastic, Sober, Solemn… Whatever Works (How to Find Your Voice)

Sensational Closing (Bringing Home the Fat Bacon)

Really, Why Are You Here? (Finding Your Emotional, Soulful "Why?")
What Do You Really Want to Write? (How to Discover the Topic You Want to Write About)

AND MANY MORE! I promise!
BONUS (Usually an exclusive 3-hour seminar) — Soul Pages: Writing That Heals
Wondering who will be conducting the workshop? I will. I hold no credentials other than 10,000++ hours of practice, more than 10 years of education in Literature and Creative Writing, 3 years of experience in editing, a published book that has ranked in Wattpad and rated 5 Stars in Goodreads, the mentorship of the best and brightest names in Philippine Literature, and years in the publishing industry. I probably have others, but I forgot.
My most important credential, however, is that like you, I struggle. Like you, I troll around. Like you, I get afraid, I don't know how to start, I don't know how to finish, and I am scrap-scared of breaking through that wall. But I did, because look. I am here. My book is published. My articles are published. My blog is growing. My IG is full of writings. I have overcome. Sometimes I still get defeated, sometimes I still get tired, sometimes I still think of quitting. But I'm still here. I didn't stop. I didn't quit. And I want to share to you how I did it.
*blows nose*
NOW, are you reading to stop thinking about writing and to actually write… right now? Whatever it is that's in your head… Write that right now! Join us and we'll make that happen!
YES! I WILL REGISTER NOW! CLICK ME! CLICK HERE! CLICK NOW!
But wait! I bring sad news: I can only accept so-and-so number of participants.
I want to be able to interact with all of you, and for all of you to get chummy with each other, so a big crowd isn't ideal. I want us to be able to create a support group so we can help each other turn that dream book/blog/article/whatchamacallit into a reality.
SEMINAR WORKSHOP DETAILS. LIKE, SUPER IMPORTANT DETAILS:
Date: January 9, 2016
Time: 9:00AM to 5:00PM (Registration starts at 8:00. We will start EXACTLY at 9:00AM to make the most out of our time).
Location: Balay Kalinaw, UP Diliman
Workshop Investment: P1,999.00   —>  P1,499.00
EARLY BIRD RATE (Until Dec. 16, 2015): P1,300.00
Mode of Payment: Bank Deposit (BDO, BPI, Metrobank — details are available in the online registration form)
Important notice: Our seminar-workshop only has limited slots. To reserve yours, you must pay the workshop fee in full via bank deposits until January 8, 2016 and send the payment to projectbeautifulwords@gmail.com with the Subject Heading: YOU ARE P*WND! I SHALL SEE YOU IN JANUARY 9! Walk-in participants are welcome, but will not be guaranteed slots.
SEMINAR WORKSHOP REMINDERS. YES. WE HAVE THEM HERE. NOW.
Check your email regularly for updates. You might want to check your spam or promotions folder to make sure you read my emails.
Do your pre-workshop assignments. YES, YOU HAVE THEM. Because what's the workshop for if you're not going to work? Again, check your email regularly to keep abreast with the happenings.
Reserver your slots by paying early. Remember, I can only entertain a limited number of participants. I want this to be as intimate, yet productive as possible.
More reminders will be sent to you via email.
For questions, clarifications, violent reactions, or plain inquiries, email me at projectbeautifulwords@gmail.com.
ARE YOU READY? PROCEED TO THE FORM. CLICK ME. CLICK HERE. CLICK THIS.